Welcome to St. Matthew's United Methodist Church. We are a growing church nestled in heart of the Gault Village neighborhood in Ypsilanti, MI. We are dedicated to the idea of community, the idea that we are stronger and better together.
All are welcome and accepted for who they are at St. Matthew's.
When you come to St. Matthew's you will discover a wide range of opportunities for spiritual growth and mission. You will find opportunities both youth and adults to grow their faith, serve their community, and find fellowship.
What makes St. Matthew's unique is our place in the community, Whether its food truck night, our little free pantry, or other community events in the heart of the Gault Village neighborhood, we want to be active with engaging with our neighbors.
Join us
Join us on Sundays at 9:30am for our worship service! We gather in-person, but you can also access our worship service livestream through our Facebook page.
Find us
1344 Borgstrom Ave.
Ypsilanti, MI 48198
Community Events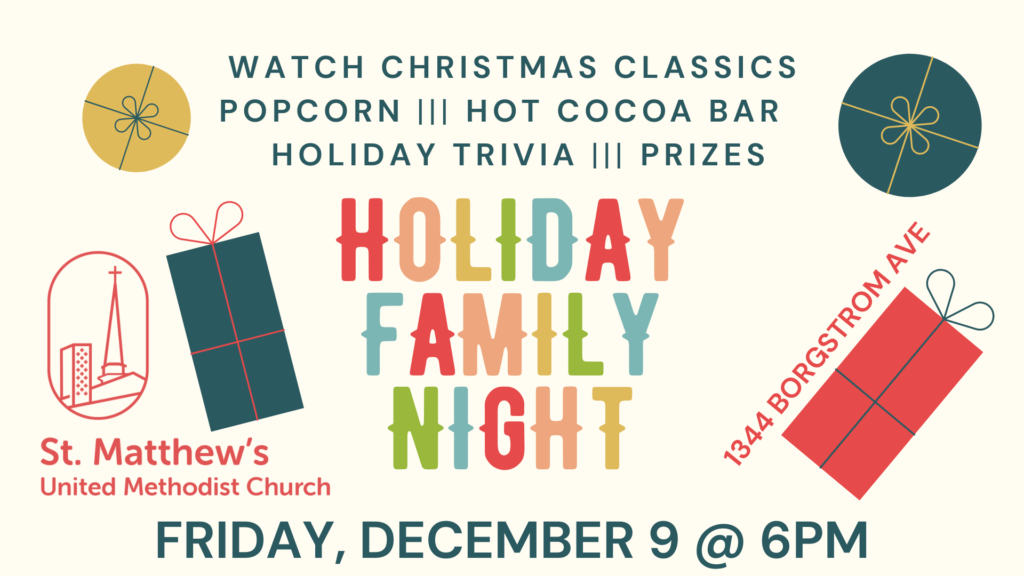 Holiday Family Night
Come and share in the Holiday Spirit at St. Matt's on Friday, 12/9! We will be watching Christmas Classics like A Charlie Brown Christmas, How The Grinch Stole Christmas, etc. We will serve popcorn and have a hot cocoa bar! Also, in between shows, we will host holiday trivia and award prizes! RSVP on Facebook!
---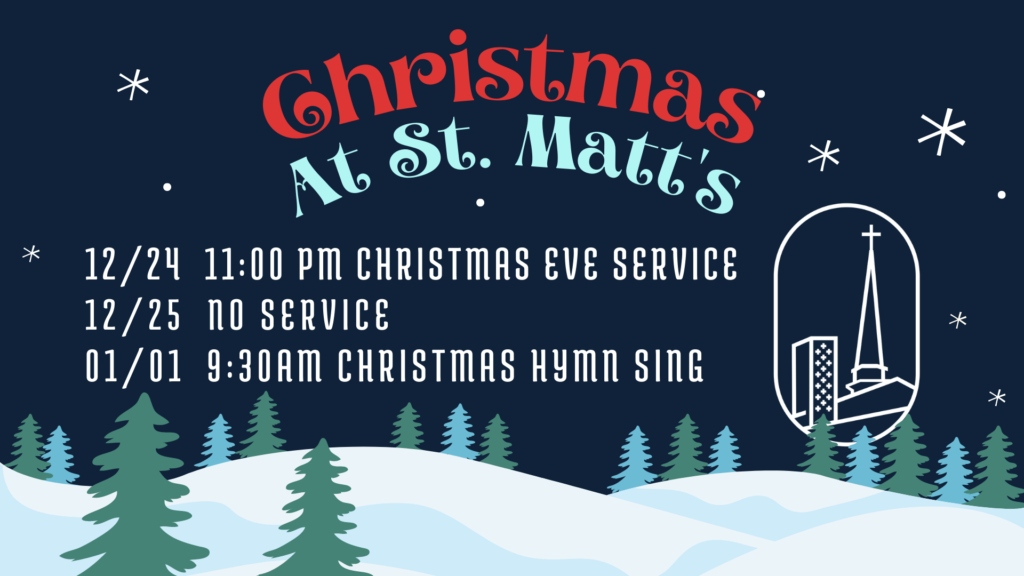 Christmas @ St. Matt's
Merry Christmas! Please join us for our 11:00 PM Christmas Eve candlelight service. The gathering ends after we sing Silent Night, as midnight strikes.
The following Sunday, New Year's Day, we will celebrate Epiphany with a Christmas Hymn sing-along! We hope to see you this holiday season!
Give
You can support St. Matts and its ministry through online giving, either as a one time gift or repeating donation: